Student Research Competition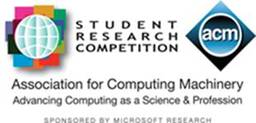 The winning Graduate Student submissions were:
1st place: The Motivation behind Tagging. Christian Koerner, Graz University of Technology
2nd place: Personalized Semantic Web Exploration Based on Adaptive Faceted Browsing. Michal Tvarozek, Slovak University of Technology in Bratislava
3rd place: User-Induced Hyperlinks in Collaborative Tagging Systems. Ching Man Au Yeung, University of Southampton
See http://www.acm.org/src/winners.html for more.
Hypertext 2009 will be participating in the ACM Student Research Competition sponsored by Microsoft Research. All invited students will compete in a conference competition for the best presentations, with the winners eligible for a spot in the SRC Grand Finals. The SRC is a valuable opportunity for students to participate in Hypertext 2009 and to receive recognition from ACM for the quality of their research.
The following Posters were accepted at the Hypertext 2009 ACM Student Research Competition:
Link to the call for the ACM Student Research Competion.